Student work needed for Cabell Big Screen's final semester show
November 7, 2016
VCU brims with talent. Share your work!
The committee programming the Cabell Big Screen seeks student work for regular Student Showcases as well as solo or thematic exhibits. The committee is now planning a year-end Student Showcase that will show through January 2017.
Proud of your portfolio or sketchbook? A cartoonist? Animator? Kinetic artist? Send your images for consideration for a showing. "We hope to show more student work as word spreads and as class projects find their way to the big screen," says Sue Robinson, who is chairing the committee curating the exhibits. The committee is open to ideas from students about thematic showcases or displays. The committee is also looking for graduate students who want to do solo shows of their work or create projects especially for the screen.
The screen is reserved for visually-engaging presentations including animation, short films, kinetic-art projects and rotating still images, and it is intended to showcase art, scientific images, library collections, data visualizations of research and other creative expressions appropriate for an academic research library. The screen is not a billboard or jumbotron for advertising or promotional messaging. Instead, it is a platform for artistic and cultural expression, a way to make visible the unique expressions of the VCU academic and artistic community.
The September Student Showcase debuted during Family Weekend (Sept. 30-Oct. 2). The show featured 11 students and was also screened during Open Houses Oct. 8 and 29, when prospective students and their families tour VCU. In addition "A Forum of Ideas," 100 images from 15 interior design students imagining the interiors and spaces of the VCU Institute of Comtemporary Art, is also running. It's up on the screen through Nov. 20, the closing for the exhibit inside Cabell Library. Keep updated on previous shows at wp.vcu.edu/cabellscreen.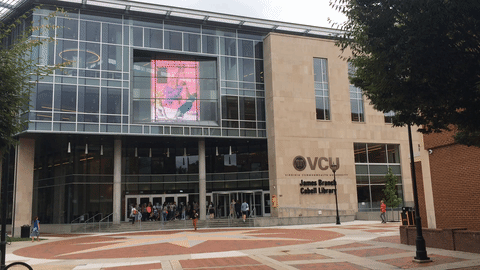 < Previous
Next >